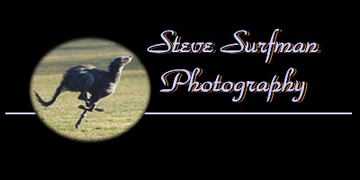 "My campers were out of their mind happy with Steve's photos!"
--Honey Loring
Founder, Camp Gone To The Dogs, Vermont
read comments from happy campers

"Steve Surfman's photos have vibrancy, texture, and a sense of humor. He's the first one I call when I need a shot of a performance dog in action."
--Denise Flaim
Pets Columnist, Newsday

"Fantastic photos and action shots. Steve works hard to get the picture you want and takes pride in his work."
--Dean Wright
Director of Lure Coursing, American Kennel Club

"Steve is the Master of Motion!"
--Mary Bloom, Photographer

"Steve captures action with a great eye, and knows
how to make animals look their best in all types of situations."
--Andrew Darlow, Andrew Darlow Images Intl.

"Steve's photos are the best action shots available. His photo of my Greyhound, Josh, is breathtaking! All the running shots on my website are Steve's."
--Cackie Vroom, Classic Sighthounds

"I am so pleased to have photos from an award winning photographer!"
--Maryann Yuran

"Steve Surfman takes super action shots! He was the official photographer for the Blue Ridge Dog Training Club agility trials this spring and his work received glowing reviews from the exhibitors. They were thrilled that we had invited him to come. He is a staff member at Camp Jackpot and will be taking photographs of our campers with their dogs."
--Donna Thompson
Owner, Camp Jackpot
Secretary, Blue Ridge Dog Training Club

"Steve Surfman took the most awesome Greyhound coursing photo I have ever laid eyes on."
--Theresa M. Lyons
Editor & Publisher, The Ridgeback Register
Publisher, To The Line